Michael Andrew Fox was born June 9th, 1961 in Edmonton, Alberta, Canada. His acting career began with a Canadian series in 1976 titled Leo & Me. Due to the fact that there was already a Michael Fox and a Michael A. Fox in the Screen Actors Guild Michael took the J. as a tribute to Michael J Pollard. His role on the Canadian series led on to roles in the US, such as a recurring role on Trapper John MD and appearances on such shows as Family and Lou Grant but it wasn't until Gary David Goldberg cast him as the Nixon loving son of hippie parents Alex P Keaton on the new family comedy Family Ties that his career really took off.
The show ran for seven years and in that time Michael also established his film career with the blockbuster Back To The Future in 1985.
---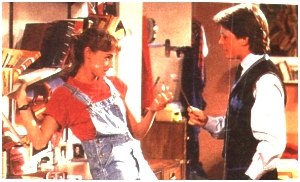 Also in 1985 a new love interest for Alex was introduced; Tracy Pollan played the outspoken art major Ellen Reed. Although Tracy was only on the show for one season, she played a major part in Michaels real life and on July 16, 1988 they were wed. The couple also appeared together in Michaels film Bright Lights Big City where he protrayed a cocaine addict where Michael inhaled powdered sugar to emulate the look of cocaine.
Family Ties ended in 1989 which gave Michael more time for his movie career. In 1989 Michael and Tracy had their first child, a son named Sam was born. Also that fall the long awaited sequal to Back To The Future was released in the United States, the third movie in the trilogy opened the next summer.
Michael appeared in amny more movies, but dedicated most of his time to his family and his ranch in Connecticut. In 1995 Michael and Tracy had two more childen, twin girls named Schuyler Frances and Aquinnah Kathleen.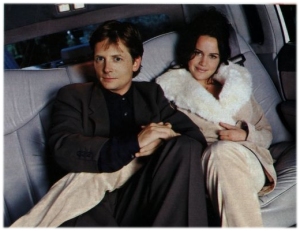 In 1996 Michael returned to television with the ABC series Spin City. The show was a hit and Michael recieved praise and Emmys for his role as Deputy Mayor Michael Flaherty.
In 1998 Michael announced to the world that he had been suffering from Parkinsons Disease since 1991.
---
In May 2000 Michael appeared on his last episode of Spin City to focus oh his foundation for Parkinson research and to spend more time with his family.